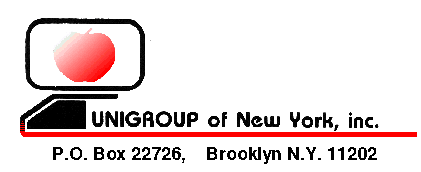 Unigroup's December 2013 Meeting Announcements
---
---
UNIGROUP SPECIAL EVENT MEETING
Topic:

NYC Technical Groups Holiday Party 2013


Date:

MONDAY, 09-DEC-2013 (** SPECIAL: 2nd MONDAY **)


Location:
Suspenders Restaurant and Bar (** Special Location **)
111 Broadway (Basement, Just North of Wall Street)
Downtown, NYC

** PLEASE RSVP **


Time:

7:00 - 10:00 PM Holiday Party


Cost:

Complimentary
---
MEETING INTRODUCTION
Unigroup Members and Guests, and friends of Unigroup, are invited to attend the 2013 NYC Technical Groups Holiday Party!
Our thanks go to NYLUG and NYCBUG for setting everything up, acquiring event sponsors, and performing the planning for this event!
---

   SPECIAL INSTRUCTIONS:
   ---------------------

   Most Unigroup meetings are open to the public!

   To REGISTER for this event, please RSVP by using the
       Unigroup Registration Page.

   This will allow us to automate the registration process.
   (Registration will also add you to our mailing list.)
   Please avoid emailed RSVPs.

   Please continue to check the Unigroup web site and THIS page,
   for any last minute updates concerning this meeting.  If you
   registered for this meeting, please check your email for any last
   minute announcements as the meeting approaches.  Also make sure
   any anti-spam white-lists are updated to _ALLOW_ Unigroup traffic!
   If you block Unigroup Emails, your address will be dropped from
   our mailing list.

   Also, if you have an interest in Unigroup, be sure to receive
   Unigroup information DIRECTLY from Unigroup, via direct receipt
   of Emails and by visiting the Unigroup Web Site.  NO OTHER SOURCE
   provides timely, accurate and complete Unigroup information.

   Please RSVP as soon as possible, preferably at least 2-3 days
   prior to the meeting date, so we can plan the food order.
   RSVP deadline is usually the night before the meeting day.

   ** RSVP are now *REQURED* for attending this event!
   ** Each attendee must individually RSVP!

   ** Please RSVP by Sunday Evening 08-DEC-2013.  We need to turn over
      the RSVP list before Monday afternoon.

   ** Various groups are collecting their own RSVPs, which will be
      combined as the event approaches.  If you have registered via
      another group's RSVP page, you do not need to re-register via
      the Unigroup RSVP page.

---
DIRECTIONS

   FIELD-TRIP LOCATION:
     Suspenders Restaurant and Bar (** SPECIAL Field-Trip Location **)
     111 Broadway  (Basement, North of Wall Street, by South-Bound '4/5')
     Manhattan, NYC

   Nearest mass transit stations are:
     '4/5' to Wall Street & Broadway, then walk North.
     'R'   to Rector Street, then Walk East to Broadway, then North.
     '1'   to Rector Street, then Walk East to Broadway, then North.
     'E'   to World Trade Center, then Walk East to Broadway, then South.

---
PRESENTATION OUTLINE
Topic: NYC Technical Groups Holiday Party 2013
Introduction & Description of Talk:
Party Invitation:

The Annual NYC Tech Meta-Party
Join us on December 9, 2013 for the annual NYC Tech Meta-Party!
NYC Technical User Groups are joining forces to hold another holiday party to remember!
The event will start at 7:00pm at Suspenders Bar & Restaurant. Delicious food and drinks will be provided.
Everyone of all types of expertise and interests are welcome. It is the ideal networking opportunity of the season, and a chance to connect with old friends and make new ones.
PLEASE RSVP!
The NYC Technical User Group participants include:
Chef-NYC - New York City Chef Users Meetup Group
DebianNYC - New York Debian Local Group
DrupalNYC - Drupal New York City
Erlang NYC - Erlang New York City
LispNYC - New York City Lisp User Group
Lopsa-NY - League of Professional System Administrators New York Chapter
NYC*BUG - New York City *BSD User Group
NYC-Clojure - NYC Clojure Users Group
nycdevops - New York City Devops Meetup Group
NYC-OCaml - The NYC OCaml Meetup
NYC-PyLadies - New York City Python Ladies Group
NYC-Python - New York Python Meetup Group
NYLUG - New York Linux Users Group
NY-Cloudera - New York Cloudera User Group
NY-Haskell - New York Haskell Users Group
NY-Scala - New York Scala
PuppetNYC - New York Puppet User Group
SFLC - Software Freedom Law Center
TA3M - Techo Activist Third Mondays
UNIGROUP - New York City's Unix User's Group
Event Sponsors:
Our generous sponsors are covering drinks and hors d'oeuvres for the evening. The current list of sponsors includes:
New York Internet (NYI)
Prentice Hall (informIT)
Tumblr
Puppet Labs
Oracle/Sun
TA3M
Amazon Web Services (AWS)
Digital Ocean
Venmo
Cloudera
Opscode
Brandorr Group
LispNYC
Additional sponsors are welcome to join in and show their support for New York City's technical community. Contact the party organizers at: brian.gupta (-a_t-) brandorr.com and/or george (-a_t-) nycbug.org.
Our thanks goes to all of the sponsors and organizers for this event!
Attend this event and help us make the 2013 Holiday Party a success!
---
FOOD AND REFRESHMENTS
Complimentary Food and Refreshments will be served.
Our thanks go to the 2013 Holiday Party Sponsors!
---
Please join us for this meeting, you won't want to miss it!

Webmaster (unilist@unigroup.org)
Copyright © 2013 Unigroup of New York, Inc., All rights reserved.