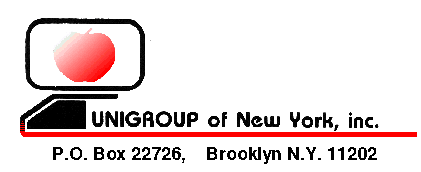 Unigroup's June 2015 Meeting Announcements
---
---
UNIGROUP GENERAL MEETING
Topic:

Modern Data Center Infrastructure Overview: Trends, Challenges & Opportunities

Speaker:

Robert E. McFarlane,
Principal Data Center Designer - Shen, Milsom & Wilke, LLC,
Adjunct Professor - Marist College


Date:

Thursday, 18-JUN-2015 (** 3rd Thursday **)


Location:
The Cooper Union
School of Engineering (*** NEW BUILDING ***)
41 Cooper Square (3rd Avenue @ 7th Street, between 6th & 7th Streets)
East Village, Manhattan
New York City, 10003
Meeting Room: 104_CS (*** 1st Floor ***)

** Please RSVP **


Time:

6:15 - 6:30 PM Registration

6:30 - 6:45 PM Ask the Wizard - Questions, Answers and Current Events

6:45 - 7:00 PM Unigroup Business

7:00 - 9:30 PM Main Presentation


Cost:

Please see the Fee Schedule below.
---
MEETING INTRODUCTION
Unigroup is pleased to announce our May 2015 meeting on using DTrace to explore the Design and Implementation of the The FreeBSD Operating System.
Our speaker is George Neville-Neil, who has presented at Unigroup on a number of occasions, and who is the co-author of "The Design and Implementation of the FreeBSD Operating System", whose most recent edition was recently released.
---

   SPECIAL INSTRUCTIONS:
   ---------------------

   Most Unigroup meetings are open to the public!

   To REGISTER for this event, please RSVP by using the
       Unigroup Registration Page.

   This will allow us to automate the registration process.
   (Registration will also add you to our mailing list.)
   Please avoid emailed RSVPs.

   Please continue to check the Unigroup web site and THIS page,
   for any last minute updates concerning this meeting.  If you
   registered for this meeting, please check your email for any last
   minute announcements as the meeting approaches.  Also make sure
   any anti-spam white-lists are updated to _ALLOW_ Unigroup traffic!
   If you block Unigroup Emails, your address will be dropped from
   our mailing list.

   Also, if you have an interest in Unigroup, be sure to receive
   Unigroup information DIRECTLY from Unigroup, via direct receipt
   of Emails and by visiting the Unigroup Web Site.  NO OTHER SOURCE
   provides timely, accurate and complete Unigroup information.

   Please RSVP as soon as possible, preferably at least 2-3 days
   prior to the meeting date, so we can plan the food order.
   RSVP deadline is usually the night before the meeting day.

   Note: RSVP is requested for this location to make sure the guard
         will let you into the building.  RSVP also helps us to
         properly plan the meeting (food, drinks, handouts,
         seating, etc.) and speed up your sign-in at the meeting.
         If you forget to RSVP prior to the meeting day, you may
         still be able to show up and attend our meeting, however,
         we cannot guarantee what building security will do if
         you are "not on the list".


---
DIRECTIONS

   Location:
      The Cooper Union  (http://www.cooper.edu)
      School of Engineering  (*** New Building ***)
      41 Cooper Square (3rd Avenue @ 7th Street, between 6th & 7th Streets)
      East Village, Manhattan
      New York City, 10003
      Meeting Room: ** (See Above, Room May Change Month-to-Month)

   Located on the East side of Cooper Square.  Look for the
   new building with the non-traditional appearance.
   Entrance is at the corner of 3rd Avenue and 7th Street.

   Building lobby sign-in is required at the guard's desk.
   Enter the building, check in with the guard at the lobby for
     directions to the Unigroup Meeting Room.

   Nearest mass transit stations are:
     '6'           to Astor Place (stops right at The Cooper Union),
                   then walk 1 block East and 1 block South.
     'R'           to 8th Street, then walk about 2 blocks East
                   then 1 block South.
     '4/5/N/Q'     to Union Square, then walk South and East.
                   or transfer to the downtown '6' to Astor Place.
     'B/D/F/V'     to Broadway-Lafayette, then walk North and East.
                   or transfer to the uptown '6' to Astor Place.

   Free street parking in the area becomes available at 6pm.

   There are parking lots on Broadway, at (or just South of) 8th
   Street, across from the West side of Cooper Square, as well
   as various others in the area.

---
PRESENTATION OUTLINE
Topic: Modern Data Center Infrastructure Overview: Trends, Challenges & Opportunities
Introduction & Description of Talk:
Modern Data Centers are among the most complex facilities designers and operators can face, and the requirements are constantly changing and challenging the capabilities of technology to keep up.
This session will attempt to condense the many inter-related elements of the Data Center Infrastructure into an overview that covers the latest trends, codes, standards and practices in the areas of power, cooling, energy efficiency, lighting, fire protection, physical security, cabling, and more.
Since this is more than can be fully covered in the time available, emphasis will be placed on the most recent industry information, with audience inter-action determining what topics to discuss in more depth.
Presentation Outline:

Infrastructure Challenges

Power & Heat Density
Energy Efficiency
Space
Management & Control



Changing Codes & Standards

ASHRAE 90.1

ASHRAE SPC 90.4P

ASHRAE TC 9.9
NFPA-75 & 76
NFPA-70

Article 645

Uptime Institute Tier Definitions
ANSI/TIA 942A
The Green Grid



Power Systems

Dual Cording Has Become Standard

Poor Infrastructure Can Defeat
Leads to More "2N" UPS Designs

208V, 3ph Now Normal
30A - 60A Circuiting More Common

UL Requires PDU Breakers

UPS

Modular

Load Matching
Higher Redundancy
Field Hot-Swappable

Economy Mode
Battery vs. Flywheel

Emergency Power Backup

Uptime Institute Position on Utility Power
Generator Systems

ATS Configurations
When Redundancy Isn't

Fuel Cells



Cooling Systems

ASHRAE TC 9.9 Guidelines

Thermal Envelope
Humidity Control
New Humidity & Static Discharge Research

Under-floor vs. Overhead Air

Closed Return Systems

Close-coupled ("Source of Heat") Cooling

In-Row Coolers
Rear Door Heat Exchangers
Self-Cooled Cabinets

Passive
Fan Boosted

Liquid Immersion
Direct Liquid Cooling
Refrigerant vs. Water Systems

Higher Temperature "Chilled" Water

Containment Systems

Hot Aisle vs. Cool Aisle
Full vs. Partial
Fire Protection Concerns

"Free Cooling"

Conventional Water-side Economizers
Air-side Systems
Adiabatic Cooling
Geothermal Cooling



Lighting Systems

Lighting Levels & Dispersion

Trend to White Cabinets

LED Lighting
Proximity Control



Raised Access Floors

Purpose
Structural Considerations

Building Slab
Floor Structure & Panels
Air Directing Vanes
Air Boosters

Height
Static Dissipative vs. Conductive
Surface Material



Physical Security

Architectural Isolation

Rings of Threat
Elevator & Stairwell Accesses
Delivery Control
Operations Monitoring
"Mantraps"

Sign-in, Sign-out
Entrance Control

Card Readers

Entrance & Exit

Biometrics
Video Surveillance

Area & Cabinet Access

Hard Wall Isolation
Security Fence
Cabinet Cypher Locks
PDU Outlet Control

Remote Access Concerns

Video Surveillance



Management & Maintenance

DCIM & PUE
Particulate & Gaseous Contaminants & Control

Entrance Control
Zinc Whiskers
Cu & Ag Coupon Testing
Routine Cleaning & Filter Maintenance
Professional Cleaning



Fire Suppression

Water-based Systems

Pre-Action
Fog Mist
Victaulic

Clean Agent or Gas-Based Systems

Clean Agents

FE-227 (FM-200)
FE-36
FE-25
Novec

Atmospheric Gas Systems

Inergen
Argonite

Hypoxic



Cabling

Trend to Fiber
Pre-terminated Cable
MPO's
References & Web Resources:

     Wikipedia on Data Center:
       http://en.wikipedia.org/wiki/Data_center


---
SPEAKER BIOGRAPHY
Robert E. McFarlane, Principal, Shen Milsom & Wilke.
Education: Graduate of Colorado State University: Engineering and Physics
Professional Affiliations:
Adjunct Professor, Marist College - College of Mathematics and Computer Science
Instructor, IDCP (Institute for Data Center Professionals) Certification Program
Member of: ASHRAE, BICSI, The Green Grid, & Uptime Institute.
Corresponding Member - ASHRAE TC 9.9
Chairman - ASHRAE Handbook Chapter 19 Re/Write: "Data Processing & Telecom. Facilities"
Member - ASHRAE SPC 90.4 Standards Committee: "Energy Standards for Data Centers"
Description:
Robert McFarlane, Principal Data Center Consultant, has spent more than 40 years in communications as both a consultant and instructor. He currently teaches the Data Center Facilities course in the Marist College IDCP (Institute for Data Center Professionals) Certification Program, sponsored by the National Science Foundation and has been the program's Commencement Speaker. He has previously lectured in telecommunications as a member of the Adjunct Faculty of New York University. Bob is presently a Corresponding Member of the ASHRAE TC9.9 Technical Committee that sets many of the standards for modern Data Center design and is a Voting Member of the new ASHRAE SPC 90.4 Standards Committee writing the new Standard for Data Center Energy Efficiency (a "sister standard" to ASHRAE 90.1). He publishes as a member of the Data Center "Ask the Experts" panel for TechTarget, writes and is interviewed for a variety of other publications, and is widely sought as a speaker at seminars on modern Data Center design. He has given sessions on every aspect of this demanding and fast changing field, with appearances at AFCOM, Data Center Futures, BICSI, ASHE PDC, Women in Construction, and The Uptime Institute. Bob was the Keynote Speaker, as well as an acclaimed featured speaker for six years at the TechTarget "Data Center Decisions" Seminars. His session presentations have covered overall Data Center Design, High Density Power and Cooling, Backup Power Systems and Applications, Energy Savings in the Data Center, and Redundancy and Single Points of Failure. This year he will be speaking at the World Energy Conference at Niagara Falls along with other engagements. Bob is also featured on a number of Webcasts, has recorded a lecture for Marist College on "Green Data Center Design", and has spoken at Marist's highly regarded Enterprise Computing Community Conference on educating IT Professionals in Data Center Facility Management. His presentation at the BICSI National Convention in Las Vegas, "Green Data Centers - A High Powered Paradox", was published in the BICSI Journal.
Bob's experience spans every segment of the industry including cable design, fiber optics, data communications, telephony, data center facilities, financial trading systems, satellite earth stations, video and multi/media, and acoustics. As a pioneer in the field of building cabling design, Bob authored papers that set forth fundamental principles for the industry that are still followed today. He was also instrumental in the development of video teleconferencing, giving nationwide seminars on room and system design before writing the foundation paper, published in Architectural Record, that set the standards for that field. He is regularly interviewed by the trade press and has been asked to speak at countless seminars on building infrastructure for electronic communications, evolving technologies and the highly demanding requirements of data center design and financial trading floors and on which he is a leading expert.
Mr. McFarlane served for twelve years as President of Interport Financial, Inc., a firm specializing in designs for financial trading floors and critical data centers. Interport was acquired by SM&W in 1999. Prior to joining Interport, Bob spent fifteen years as a Vice President of Hubert Wilke, Inc., where he was Director of Middle East Operations and headed the office in Tehran before creating and running the telecommunications consulting practice for that firm in the United States. In that capacity he developed wide/ranging services in telecommunications design which included the data center and trading floor disciplines in which he continues to specialize.
Subsequent to Bobs's graduation from Colorado State University, he employed his Engineering and Physics training as research engineer in the Department of Hearing and Speech Science. He also lectured in auditory acoustics and bio/acoustic instrumentation for seven years at the graduate level. He subsequently served Northern Illinois University as Director of Engineering for the Division of Communications Services and was Manager of Engineering for the nationwide Blue Cross/Blue Shield Computer Network before developing a wide range of Mission Critical consulting fields.
Some of the Data Center projects on Mr. McFarlane's extensive resume include:
University of Hawaii Information Technology Building & Data Center
Yeshiva University & Einstein College of Medicine (Research & Administrative Data Centers)
Weill Cornell Medical Center (Ultra/High Density Research Facility & New Data Center)
New York University Physics Research Computing (High Density Water/Cooled Cabinets)
Einstein College of Medicine Research Data Center
Yeshiva University Main Campus Data Center
Riyadh University for Women (Main & Backup Data Centers)
Lake Trust Credit Union
University of Kentucky (Academic and Hospital Computing Centers)
Abu Dhabi Investment Authority (Main & Backup Data Centers)
Stanford University Medical Center
Orange County Regional Hospital
Howard Hughes Medical Institute Research Data Center
Bancomer, Mexico City
New York City Office of Emergency Management
Commerce Hub (Original & Expansion Data Centers)
inComm
Hampton Roads Sanitation District Operations Center
Confidential Military Data Center
Knight Equity Markets
Union Pacific Railroad Headquarters
Towne Bank Data Center
University of South Carolina / US Department of Justice Data Center
New York City Honors College
LogicalNet
MapInfo Corporation
Borgata Hotel & Casino (Main & Backup Data Centers)
University of Alabama at Birmingham
State University of New York at Albany
John Jay College of Criminal Justice
Montclair State University
Dewey Ballantine LLP
Dexia Credit Local
Amici LLP
Digital Globe
Museum of Modern Art Expansion - New York
Raymond James & Associates (St. Petersburg, FL and New York City)
---
COMPANY BIOGRAPHY
Shen Milsom & Wilke Firm Profile:
Shen Milsom & Wilke, LLC is an experienced and internationally recognized audiovisual/multimedia, information technology, acoustics, security and medical equipment planning, design and consulting firm. Clients include building owners, architects, and contractors for all types of projects around the world. We are MBE certified in New York, New Jersey, Illinois, Wisconsin, and the City of Boston. We are registered as a certified minority business with National Minority Supplier Development Council (NMSC). This includes 24 regional affiliates.
Practical and innovative solutions for audiovisual/multimedia applications include networked media retrieval, video conferencing and distance learning. Information technology services include voice and data services, such as base building, cable distribution, and voice and data systems design. We specialize in architectural acoustics, mechanical noise and vibration analysis and control, as well as structural dynamics and environmental noise and vibration assessments. Security services include threat assessments and audits, systems design and specification, construction documentation, and construction administration. Shen Milsom & Wilke also designs IT infrastructure, computing environments, display systems, for data centers and trading floors, assimilating current technologies and forecasting future technology developments. Data center services include CFD studies, or computational fluid dynamics, as a key part of providing cost/effective cooling strategies. SM&W medical equipment planning services have helped projects around the world plan and allocate resources for all types of clinical systems.
Shen Milsom & Wilke was started in 1986 and has grown to become an international company with a worldwide staff of over 230. Offices are located in New York, Princeton, Washington, DC, Chicago, San Francisco, Houston, Denver, Plymouth Meeting, PA, Dubai, Hong Kong, Shanghai, Beijing, and London.
For further information, visit: http://www.smwllc.com
---
GIVEAWAYS

Addison-Wesley Professional/Prentice Hall PTR/Pearson, and O'Reilly have been kind enough to provide us with review copies of some of their books, which we will continue to raffle off as giveaways at our meetings. The publishers always ask that the persons receiving the books provide a review and/or feedback about their books.
Unigroup would like to thank both publishing companies for the support provided by their User Group programs.
As always, all of the books will be available for review at the start of the meeting.
---
FEE SCHEDULE
Unigroup is a Professional Technical Organization and User Group, and its members pay a yearly membership fee. For Unigroup members, there is usually no additional charges (ie. no meeting fees) during their membership year. Non-members who wish to attend Unigroup meetings are usually required to pay a "Single Meeting Fee".

         Yearly Membership (includes all meetings):      $ 50.00
         Student Yearly Membership (with current! ID):   $ 25.00
         Non-Member Single Meeting:                      $ 20.00
         Non-Member Student Single Meeting (with! ID):   $  5.00

       * Payment Methods: Cash, Check, American Express.
                          MasterCard, VISA, Discover (since 2013).

       ! Students: We are looking for proof that you are
         currently enrolled in classes (rather than working
         full-time), and as such, your Student ID should show
         a CURRENT date.  We have been presented Student IDs
         containing NO dates whatsoever, and in the
         current environment, perpetual/non-expiring access
         to university facilities just does not feel right.
         If your ID contains no date, please bring
         additional proof of current enrollment.  Thanks.


NOTE: Simply receiving Unigroup Email Announcements does NOT indicate membership in Unigroup.
Members: Remember to bring your membership card with you to the meeting, to confirm your yearly renewal date!
---
FOOD AND REFRESHMENTS
Complimentary Food and Refreshments will be served. This includes "wraps" such as turkey, roast beef, chicken, tuna and grilled vegetables as well as assorted salads (potato, tossed, pasta, etc), cookies, brownies, bottled water and assorted beverages.
---
Please join us for this meeting, you won't want to miss it!

Webmaster (unilist@unigroup.org)
Copyright © 2015 Unigroup of New York, Inc., All rights reserved.