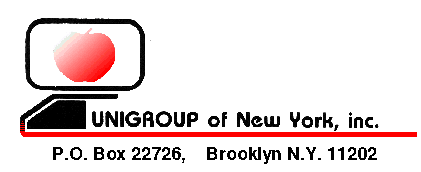 Unigroup's September 2016 Meeting Announcements
---
---
UNIGROUP GENERAL MEETING
Topic:

IT/Computing War Stories
[Systems, Development, Infrastructure, Projects]

Speakers:

Panel Discussion.
Chris Lent, The Cooper Union, http://www.cooper.edu
Matt Rothman, Blue Moon Technology, http://www.bluemoon-tech.com
Robert Weiner, Programming Plus, http://www.progplus.com


Date:

Thursday, 15-SEP-2016 (** 3rd Thursday **)


Location:
The Cooper Union
School of Engineering (*** NEW BUILDING ***)
41 Cooper Square (3rd Avenue @ 7th Street, between 6th & 7th Streets)
East Village, Manhattan
New York City, 10003
Meeting Room: LL101_CS (*** New Building: LL=Lower Level ***)

** Please RSVP **


Time:

6:15 - 6:30 PM Registration

6:30 - 6:45 PM Ask the Wizard - Questions, Answers and Current Events

6:45 - 7:00 PM Unigroup Business

7:00 - 9:30 PM Main Presentation


Cost:

Please see the Fee Schedule below.
---
MEETING INTRODUCTION
Unigroup's September 2016 meeting will be on IT/Computing War Stories, which are meant to be interesting stories, anecdotes and experiences as seen from IT Professionals working in the field for many years.
---

   SPECIAL INSTRUCTIONS:
   ---------------------

   Most Unigroup meetings are open to the public!

   To REGISTER for this event, please RSVP by using the
       Unigroup Registration Page.

   This will allow us to automate the registration process.
   (Registration will also add you to our mailing list.)
   Please avoid emailed RSVPs.

   Please continue to check the Unigroup web site and THIS page,
   for any last minute updates concerning this meeting.  If you
   registered for this meeting, please check your email for any last
   minute announcements as the meeting approaches.  Also make sure
   any anti-spam white-lists are updated to _ALLOW_ Unigroup traffic!
   If you block Unigroup Emails, your address will be dropped from
   our mailing list.

   Also, if you have an interest in Unigroup, be sure to receive
   Unigroup information DIRECTLY from Unigroup, via direct receipt
   of Emails and by visiting the Unigroup Web Site.  NO OTHER SOURCE
   provides timely, accurate and complete Unigroup information.

   Please RSVP as soon as possible, preferably at least 2-3 days
   prior to the meeting date, so we can plan the food order.
   RSVP deadline is usually the night before the meeting day.

   Note: RSVP is requested for this location to make sure the guard
         will let you into the building.  RSVP also helps us to
         properly plan the meeting (food, drinks, handouts,
         seating, etc.) and speed up your sign-in at the meeting.
         If you forget to RSVP prior to the meeting day, you may
         still be able to show up and attend our meeting, however,
         we cannot guarantee what building security will do if
         you are "not on the list".


---
DIRECTIONS

   Location:
      The Cooper Union  (http://www.cooper.edu)
      School of Engineering  (*** New Building ***)
      41 Cooper Square (3rd Avenue @ 7th Street, between 6th & 7th Streets)
      East Village, Manhattan
      New York City, 10003
      Meeting Room: ** (See Above, Room May Change Month-to-Month)

   Located on the East side of Cooper Square.  Look for the
   new building with the non-traditional appearance.
   Entrance is at the corner of 3rd Avenue and 7th Street.

   Building lobby sign-in is required at the guard's desk.
   Enter the building, check in with the guard at the lobby for
     directions to the Unigroup Meeting Room.

   Nearest mass transit stations are:
     '6'           to Astor Place (stops right at The Cooper Union),
                   then walk 1 block East and 1 block South.
     'R'           to 8th Street, then walk about 2 blocks East
                   then 1 block South.
     '4/5/N/Q'     to Union Square, then walk South and East.
                   or transfer to the downtown '6' to Astor Place.
     'B/D/F/V'     to Broadway-Lafayette, then walk North and East.
                   or transfer to the uptown '6' to Astor Place.

   Free street parking in the area becomes available at 6pm.

   There are parking lots on Broadway, at (or just South of) 8th
   Street, across from the West side of Cooper Square, as well
   as various others in the area.

---
PRESENTATION OUTLINE
Topic: IT/Computing War Stories - [Systems, Development, Infrastructure, Projects]
Related Topics/Keywords:
Computer Systems, Systems Administration, Software Development, Computing Infrastructure/Datacenter/HVAC/Electrical, Networking, Databases, Storage, Computer Security, Power/UPS, Projects/Project Management.
Introduction & Description of Talk:
Unigroup's September 2016 meeting will be on IT/Computing War Stories, which are meant to be interesting stories, anecdotes and experiences as seen from IT Professionals working in the field for many years. They tend to cover: things to learn, things to avoid, things to expect, things you just would not believe possible, problems with vendors of various kinds (from ISPs thru Electricians), helpful problem resolution methods, useful tools to have in your tool-box, etc.
Also, if you will be attending and have some interesting stories, please organize your thoughts into an outline and let us know at the start of the meeting.
Presentation Outline:

Stories about Computer Hardware
Stories about Storage
Stories about Networking/Cabling
Stories about Infrastructure/Datacenter/HVAC/Electrical
Stories about Systems Administration
Stories about Software Development
Stories about Internet Access and ISPs
Stories about Computer Security
Stories about Projects and Project Management
Stories about things that: blow up, shoot lightning/arcs, overheat, smoke, melt, spray dirt/debris, blow breakers, were killed by lightning or bad power, etc. Firehazzards.
Stories about companies insisting on doing things "wrong".
RAID drives which turned out non-redundant, and were ordered and installed that way.
Computer gear crashing due to where they were plugged in.
Computer gear turning to runny goo.
Surviving wildly flakey power due to storms and hurricanes.
SMTP/Email bugs from major ISPs, no Email = no business.
Systems broken into, turned into Warez Sites + Spam senders.
Craziness dealing with major ISP technical support.
Bad wiring on power and surge devices and telecom gear.
Generators which cannot sync to the UPS, so loads just drop.
ATS which drop loads when fed by two working UPS.
Product design problems which just get in the way.
Using fun logins/passwords, logging into "/" yields root.
High speed networking over old cat3 phone pairs or old serial lines, with bad/screwy punchdowns.
Electrican runs the cables, mislabels everything on both ends, and also miswired both ends in different ways.
Readonly database access which causes row, column and table locking to happen... deadlocks in a real-time system.
Linux (old version) taking down entire corporate networks.
Cables unplugging themselves, machines turning themselves on.
Logging system errors only to RAM filesystems, for systems which are turned off many times a day.
Mandate to configure new networking links, while being prevented from plugging any cables in.
Computer+network gear is unknowingly crashed daily, as a matter of company procedure.
Software design w/o documentation and w/o error checking.
Disconnection of power/surge protection gear as a matter of procedure, when lightning was known to cause system crashes.
Believing what the computer tells you, w/o checking yourself.
Buggy device drivers, buggy microcode.
What it means when the HVAC service people are coming.
Heating up your computers is not good for business.
Coding a new project from scratch with 'C', or doing it in just a couple minutes using the existing tools like AWK.
Incorrect TIA-568A wiring can cause gear to smoke?
Tools to un-mess your Windoze and boot problems.
Burning resistors and exploding capacitors.
Deailing with Tech Support which uses strange Email encodings.
(many more)
(we have quite a big list of experiences, which will easily fill the meeting)
References & Web Resources:

  T/B/A.


---
SPEAKER BIOGRAPHY
Chris Lent - The Cooper Union
Chris Lent is the Director of Academic Computing at the Cooper Union for the Advancement of Science and Art. Christopher Lent founded and ran a computer consulting firm from 1984 until 1998. Chris has taught programming from 1988 to the present, in C, C++, Python, FORTRAN, and many little languages. Since 1999, Chris has volunteered annually as a judge at the ACM Greater New York Region Intercollegiate Programming contest. For information about The Cooper Union, please visit: http://www.cooper.edu. Chris is also a Unigroup Board Member.
Matt Rothman - Blue Moon Technology
Matt has over 30 years experience in IT. Database and Numerical Programming on Wall St then Bioinformatic Research. Matt currently works at Blue Moon Technology (BMT http://bluemoon-tech.com). BMT provides a wide range of products & services; VOIP phones, Skype for Business (Unified Communication), Copiers including very high end/high speed machines, Event Streaming/Capture both, Cloud based PC, Internet Circuits and General IT support & infrastructure. Matt is also a Unigroup Board Member.
Robert Weiner - Programming Plus
Robert Weiner is the founder and President of Programming Plus, a business which provides Computer-Related Hardware and Software Consulting & Engineering Services (for Unix, Linux, BSD, OpenVMS, Windows and DOS). Robert is an Electrical Engineer (with BE and ME degrees from The Cooper Union in NYC), a NYS Licensed Professional Engineer, Software Developer, Systems Administrator, Systems Integrator, and System Builder, who has been working with Unix for over 30 years, Linux for over 20 years, and WinDOS systems going back to DOS and CP/M. Robert has been a Unigroup member since 1985, a Unigroup Board Member since 1991, and Unigroup's Executive Director since 1992. For further information, please visit the Programming Plus Web Site: http://www.progplus.com.
---
COMPANY BIOGRAPHY
(see above)
---
GIVEAWAYS

Addison-Wesley Professional/Prentice Hall PTR/Pearson, and O'Reilly have been kind enough to provide us with review copies of some of their books, which we will continue to raffle off as giveaways at our meetings. The publishers always ask that the persons receiving the books provide a review and/or feedback about their books.
Unigroup would like to thank both publishing companies for the support provided by their User Group programs.
As always, all of the books will be available for review at the start of the meeting.
Note: Our book supply is currently running low, and we need to restock.
---
FEE SCHEDULE
Unigroup is a Professional Technical Organization and User Group, and its members pay a yearly membership fee. For Unigroup members, there is usually no additional charges (ie. no meeting fees) during their membership year. Non-members who wish to attend Unigroup meetings are usually required to pay a "Single Meeting Fee".

         Yearly Membership (includes all meetings):      $ 50.00
         Student Yearly Membership (with current! ID):   $ 25.00
         Non-Member Single Meeting:                      $ 20.00
         Non-Member Student Single Meeting (with! ID):   $  5.00

       * Payment Methods: Cash, Check, American Express.
                          MasterCard, VISA, Discover (since 2013).

       ! Students: We are looking for proof that you are
         currently enrolled in classes (rather than working
         full-time), and as such, your Student ID should show
         a CURRENT date.  We have been presented Student IDs
         containing NO dates whatsoever, and in the
         current environment, perpetual/non-expiring access
         to university facilities just does not feel right.
         If your ID contains no date, please bring
         additional proof of current enrollment.  Thanks.


NOTE: Simply receiving Unigroup Email Announcements does NOT indicate membership in Unigroup.
Members: Remember to bring your membership card with you to the meeting, to confirm your yearly renewal date!
---
FOOD AND REFRESHMENTS
Complimentary Food and Refreshments will be served. This includes "wraps" such as turkey, roast beef, chicken, tuna and grilled vegetables as well as assorted salads (potato, tossed, pasta, etc), cookies, brownies, bottled water and assorted beverages.
---
Please join us for this meeting, you won't want to miss it!

Webmaster (unilist@unigroup.org)
Copyright © 2016 Unigroup of New York, Inc., All rights reserved.