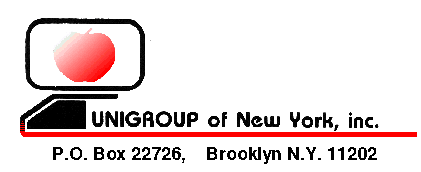 Unigroup's January 2018 Meeting Announcements
---
---
UNIGROUP GENERAL MEETING
Topic:

SUSE Linux Update including Meltdown/Spectre

Speaker:

Anthony Tortola, Sales Engineer,
Gaby Beitler, Sales Engineer,
SUSE Linux NYC Team,
SUSE


Date:

Thursday, 11-JAN-2018 (** SPECIAL 2nd Thursday **)


Location:
The Cooper Union
School of Engineering (*** NEW BUILDING ***)
41 Cooper Square (3rd Avenue @ 7th Street, between 6th & 7th Streets)
East Village, Manhattan
New York City, 10003
Meeting Room: To-Be-Determined-On-Site (*** New Building: TBD ***)

** Please RSVP **


Time:

6:15 - 6:30 PM Registration

6:30 - 6:45 PM Ask the Wizard - Questions, Answers and Current Events

6:45 - 7:00 PM Unigroup Business

7:00 - 9:30 PM Main Presentation


Cost:

Please see the Fee Schedule below.
---
MEETING INTRODUCTION
Unigroup is planning our January 2018 meeting next week on Thursday, January 11, 2018, -1 week earlier than our normal meeting week. Note: The meeting room number will be determined by Thursday.
Unigroup's January 2018 meeting will be an update on SUSE Linux, covering various technical topics for current and future SUSE Linux Releases. We are also planning a future meeting with SUSE covering Linux on ARM+Power Architectures.
Have you seen the recent security announcements regarding Meltdown+Spectre?... they are all over the technical mailing lists this week... Unigroup has asked SUSE to give us an update on how SUSE and the Linux Kernel will be addressing the various issues that have been identified. (See below for Meltdown/Specre URLs.)
Happy New Year! And that means its time for Elections... Unigroup Elections: Unigroup holds Board of Director Elections every January. If you are a Unigroup Member and would like to run for the Unigroup Board, please contact us on or before our January meeting. Board members are expected to regularly attend Unigroup General and Board Meetings, and basically help the rest of the board run Unigroup. If you would like to help out Unigroup, but not join the board officially, please let us know. Unigroup needs your help! Unigroup is a not-for-profit volunteer organization, and has been serving the Greater NYC Metro Unix/Linux/BSD Users Community for over 30 years!
---

   SPECIAL INSTRUCTIONS:
   ---------------------

   Most Unigroup meetings are open to the public!

   To REGISTER for this event, please RSVP by using the
       Unigroup Registration Page.

   This will allow us to automate the registration process.
   (Registration will also add you to our mailing list.)
   Please avoid emailed RSVPs.

   Please continue to check the Unigroup web site and THIS page,
   for any last minute updates concerning this meeting.  If you
   registered for this meeting, please check your email for any last
   minute announcements as the meeting approaches.  Also make sure
   any anti-spam white-lists are updated to _ALLOW_ Unigroup traffic!
   If you block Unigroup Emails, your address will be dropped from
   our mailing list.

   Also, if you have an interest in Unigroup, be sure to receive
   Unigroup information DIRECTLY from Unigroup, via direct receipt
   of Emails and by visiting the Unigroup Web Site.  NO OTHER SOURCE
   provides timely, accurate and complete Unigroup information.

   Please RSVP as soon as possible, preferably at least 2-3 days
   prior to the meeting date, so we can plan the food order.
   RSVP deadline is usually the night before the meeting day.

   Note: RSVP is requested for this location to make sure the guard
         will let you into the building.  RSVP also helps us to
         properly plan the meeting (food, drinks, handouts,
         seating, etc.) and speed up your sign-in at the meeting.
         If you forget to RSVP prior to the meeting day, you may
         still be able to show up and attend our meeting, however,
         we cannot guarantee what building security will do if
         you are "not on the list".


---
DIRECTIONS

   Location:
      The Cooper Union  (http://www.cooper.edu)
      School of Engineering  (*** New Building ***)
      41 Cooper Square (3rd Avenue @ 7th Street, between 6th & 7th Streets)
      East Village, Manhattan
      New York City, 10003
      Meeting Room: ** (See Above, Room May Change Month-to-Month)

   Located on the East side of Cooper Square.  Look for the
   new building with the non-traditional appearance.
   Entrance is at the corner of 3rd Avenue and 7th Street.

   Building lobby sign-in is required at the guard's desk.
   Enter the building, check in with the guard at the lobby for
     directions to the Unigroup Meeting Room.

   Nearest mass transit stations are:
     '6'           to Astor Place (stops right at The Cooper Union),
                   then walk 1 block East and 1 block South.
     'R'           to 8th Street, then walk about 2 blocks East
                   then 1 block South.
     '4/5/N/Q'     to Union Square, then walk South and East.
                   or transfer to the downtown '6' to Astor Place.
     'B/D/F/V'     to Broadway-Lafayette, then walk North and East.
                   or transfer to the uptown '6' to Astor Place.

   Free street parking in the area becomes available at 6pm.

   There are parking lots on Broadway, at (or just South of) 8th
   Street, across from the West side of Cooper Square, as well
   as various others in the area.

---
PRESENTATION OUTLINE
Topic: SUSE Linux Update including Meltdown/Spectre
Related Topics/Keywords:
SUSE, Linux, Operating Systems, Patching/Service Packs, Computer Security, CPU Architecture, Kernel Memory References, Meltdown, Spectre, Vulnerability Mitigation.
Introduction & Description of Talk:
SUSE Linux Topics To-be-announced.
SUSE will be presenting on various topics, from security to new releases, to containers.
Presentation Outline:

New Security Vulnerabilities: Meltdown and Spectre: What Are They, and How to Mitigate Against Them. Also, the pros and cons related to the security mitigation implementations (there are tradeoffs that are workload dependent).
SLES 12 SP3: Current Service Pack Update to SUSE Linux Enterprise Server.
SLE 15 Beta: The Next Generation of SUSE Enterprise Linux.
Containers as a Service Platform: Redefining Application Delivery
References & Web Resources:

   Security Vulnerability Meltdown+Spectre:

     http://www.us-cert.gov/ncas/alerts/TA18-004A

     http://spectreattack.com/
     http://meltdownattack.com/

     http://googleprojectzero.blogspot.com/2018/01/reading-privileged-memory-with-side.html
     http://blog.mozilla.org/security/2018/01/03/mitigations-landing-new-class-timing-attack

     http://www.theregister.co.uk/2018/01/02/intel_cpu_design_flaw/
     http://www.theregister.co.uk/2018/01/05/spectre_flaws_explained/
     http://newsroom.intel.com/news/intel-responds-to-security-research-findings/
     http://security-center.intel.com/advisory.aspx?intelid=INTEL-SA-00088&languageid=en-fr
     http://www.amd.com/en/corporate/speculative-execution
     http://www.arm.com/security-update
     http://www.ibm.com/blogs/psirt/potential-impact-processors-power-family/
     http://tools.cisco.com/security/center/content/CiscoSecurityAdvisory/cisco-sa-20180104-cpusidechannel
     http://kb.juniper.net/InfoCenter/index?page=content&id=JSA10842&actp=RSS
     http://www.pcmag.com/news/358331/is-your-antivirus-blocking-microsofts-chip-patch
     http://www.zdnet.com/article/windows-meltdown-spectre-update-now-some-amd-pc-owners-post-crash-reports/

     https://www.suse.com/c/suse-addresses-meltdown-spectre-vulnerabilities/
     https://lists.opensuse.org/opensuse-security-announce/2018-01/msg00004.html
     https://www.suse.com/support/kb/doc/?id=7022512
     https://www.suse.com/security/cve/CVE-2017-5715.html
     https://www.suse.com/security/cve/CVE-2017-5753.html
     https://www.suse.com/security/cve/CVE-2017-5754.html

     https://access.redhat.com/security/vulnerabilities/speculativeexecution
     https://access.redhat.com/errata/RHSA-2018:0007
     https://access.redhat.com/errata/RHSA-2018:0012
     https://access.redhat.com/errata/RHSA-2018:0014
     https://access.redhat.com/security/cve/CVE-2017-5715

     The FreeBSD Security mailing list has active threads on this topic:
       http://lists.freebsd.org/mailman/listinfo/freebsd-security
     NetBSD Kernel Mailing List discussion and work-in-progress:
       http://mail-index.netbsd.org/tech-kern/2018/01/06/msg022883.html

   SUSE SLES 12 SP3:
     https://www.suse.com/releasenotes/x86_64/SUSE-SLES/12-SP3/

   SUSE SLE 15:
     https://www.suse.com/betaprogram/sle-beta/

   SUSE Container as a Service
     https://www.suse.com/products/caas-platform/

   SUSE Linux
     http://www.suse.com

   OpenSUSE Linux
     http://www.opensuse.org


---
SPEAKER BIOGRAPHY
Anthony Tortola - Technical Sales Specialist - SUSE
Anthony Tortola is a data center expert and certified Linux engineer. He has worked in many capacities from technical sales, solutions architect, consulting services, and engineering in the last few decades. He has extensive experience working in data centers across different market segments: Education, Finance, Entertainment and Retail Banking. His background as a support engineer means he knows the meaning of "customer-first" and being a tireless advocate to help customers accomplish their goals no matter how hard the task. Some of the technologies Anthony enjoys working with are: SUSE OpenStack Cloud Computing, Virtualization, SUSE Linux, Systems Management, Disaster Recovery, SAP, High Availability and Enterprise Storage (Ceph).
Gaby Beitler - Sales Engineer - SUSE
Gaby Beitler is an IT industry veteran with a broad knowledge of infrastructure. Gaby began his career as a UNIX consultant and architect. He designed high performance cluster environments, as well as SMT based systems, for healthcare and financial industries. Gaby spent the second half of his career in pre-sales roles with Sun Microsystems, VMware, SUSE, and Hadoop partners. He enjoys focusing his technical skills to solve the many business challenges that companies face. Gaby earned his B.S. Summa Cum Laude in Communications from Chestnut Hill College and earned his Post-Baccalaureate Certificate in Finance and Accounting from The Wharton School of Business.
---
COMPANY BIOGRAPHY
SUSE, a pioneer in open source software, provides reliable, interoperable Linux and cloud infrastructure solutions that give enterprises greater control and flexibility. More than 20 years of engineering excellence, exceptional service and an unrivaled partner ecosystem power the products and support that help our customers manage complexity, reduce cost, and confidently deliver mission-critical services. The lasting relationships we build allow us to adapt and deliver the smarter innovation they need to succeed today and tomorrow.
For further information please visit: http://www.suse.com
---
GIVEAWAYS

Addison-Wesley Professional/Prentice Hall PTR/Pearson, and O'Reilly have been kind enough to provide us with review copies of some of their books, which we will continue to raffle off as giveaways at our meetings. The publishers always ask that the persons receiving the books provide a review and/or feedback about their books.
Unigroup would like to thank both publishing companies for the support provided by their User Group programs.
As always, all of the books will be available for review at the start of the meeting.
Note: Our book supply is currently running low, and we need to restock.
---
FEE SCHEDULE
Unigroup is a Professional Technical Organization and User Group, and its members pay a yearly membership fee. For Unigroup members, there is usually no additional charges (ie. no meeting fees) during their membership year. Non-members who wish to attend Unigroup meetings are usually required to pay a "Single Meeting Fee".

         Yearly Membership (includes all meetings):      $ 50.00
         Student Yearly Membership (with current! ID):   $ 25.00
         Non-Member Single Meeting:                      $ 20.00
         Non-Member Student Single Meeting (with! ID):   $  5.00

       * Payment Methods: Cash, Check, American Express.
                          MasterCard, VISA, Discover (since 2013).

       ! Students: We are looking for proof that you are
         currently enrolled in classes (rather than working
         full-time), and as such, your Student ID should show
         a CURRENT date.  We have been presented Student IDs
         containing NO dates whatsoever, and in the
         current environment, perpetual/non-expiring access
         to university facilities just does not feel right.
         If your ID contains no date, please bring
         additional proof of current enrollment.  Thanks.


NOTE: Simply receiving Unigroup Email Announcements does NOT indicate membership in Unigroup.
Members: Remember to bring your membership card with you to the meeting, to confirm your yearly renewal date!
---
FOOD AND REFRESHMENTS
Complimentary Food and Refreshments will be served. This includes "wraps" such as turkey, roast beef, chicken, tuna and grilled vegetables as well as assorted salads (potato, tossed, pasta, etc), cookies, brownies, bottled water and assorted beverages.
** However, due to a continuing situation at our caterer, we are planning to have: pizza (cheese+veggy), soda, water, cookies, and brownies at this meeting.
SUSE will be sponsoring the food service for this meeting, Thanks SUSE!
---
Please join us for this meeting, you won't want to miss it!

Webmaster (unilist@unigroup.org)
Copyright © 2018 Unigroup of New York, Inc., All rights reserved.