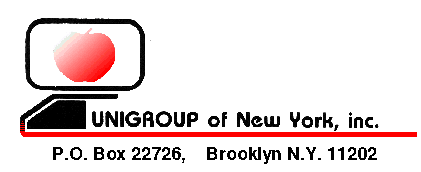 Unigroup's June 2018 Meeting Announcements
---
---
UNIGROUP GENERAL MEETING
Topic:

Computer/Network Security: Anatomy of a Hack

Speaker:

Chris Motley, Systems Engineer,
Palo Alto Networks

Date:

Thursday, 21-JUN-2018 (** Regular 3rd Thursday **)


Location:
The Cooper Union
School of Engineering (*** NEW BUILDING ***)
41 Cooper Square (3rd Avenue @ 7th Street, between 6th & 7th Streets)
East Village, Manhattan
New York City, 10003
Meeting Room: 502 (*** New Building: 5th Floor ***)

** Please RSVP **


Time:

6:15 - 6:30 PM Registration

6:30 - 6:45 PM Ask the Wizard - Questions, Answers and Current Events

6:45 - 7:00 PM Unigroup Business

7:00 - 9:30 PM Main Presentation


Cost:

Please see the Fee Schedule below.
---
MEETING INTRODUCTION
Unigroup's June 2018 meeting will be on Computer/Network Security. Presentation details are below, but it sounds like the talk will do demonstrations using Kali Linux to attack/probe/hack Windows.
---

   SPECIAL INSTRUCTIONS:
   ---------------------

   Most Unigroup meetings are open to the public!

   To REGISTER for this event, please RSVP by using the
       Unigroup Registration Page.

   This will allow us to automate the registration process.
   (Registration will also add you to our mailing list.)
   Please avoid emailed RSVPs.

   Please continue to check the Unigroup web site and THIS page,
   for any last minute updates concerning this meeting.  If you
   registered for this meeting, please check your email for any last
   minute announcements as the meeting approaches.  Also make sure
   any anti-spam white-lists are updated to _ALLOW_ Unigroup traffic!
   If you block Unigroup Emails, your address will be dropped from
   our mailing list.

   Also, if you have an interest in Unigroup, be sure to receive
   Unigroup information DIRECTLY from Unigroup, via direct receipt
   of Emails and by visiting the Unigroup Web Site.  NO OTHER SOURCE
   provides timely, accurate and complete Unigroup information.

   Please RSVP as soon as possible, preferably at least 2-3 days
   prior to the meeting date, so we can plan the food order.
   RSVP deadline is usually the night before the meeting day.

   Note: RSVP is requested for this location to make sure the guard
         will let you into the building.  RSVP also helps us to
         properly plan the meeting (food, drinks, handouts,
         seating, etc.) and speed up your sign-in at the meeting.
         If you forget to RSVP prior to the meeting day, you may
         still be able to show up and attend our meeting, however,
         we cannot guarantee what building security will do if
         you are "not on the list".


---
DIRECTIONS

   Location:
      The Cooper Union  (http://www.cooper.edu)
      School of Engineering  (*** New Building ***)
      41 Cooper Square (3rd Avenue @ 7th Street, between 6th & 7th Streets)
      East Village, Manhattan
      New York City, 10003
      Meeting Room: ** (See Above, Room May Change Month-to-Month)

   Located on the East side of Cooper Square.  Look for the
   new building with the non-traditional appearance.
   Entrance is at the corner of 3rd Avenue and 7th Street.

   Building lobby sign-in is required at the guard's desk.
   Enter the building, check in with the guard at the lobby for
     directions to the Unigroup Meeting Room.

   Nearest mass transit stations are:
     '6'           to Astor Place (stops right at The Cooper Union),
                   then walk 1 block East and 1 block South.
     'R'           to 8th Street, then walk about 2 blocks East
                   then 1 block South.
     '4/5/N/Q'     to Union Square, then walk South and East.
                   or transfer to the downtown '6' to Astor Place.
     'B/D/F/V'     to Broadway-Lafayette, then walk North and East.
                   or transfer to the uptown '6' to Astor Place.

   Free street parking in the area becomes available at 6pm.

   There are parking lots on Broadway, at (or just South of) 8th
   Street, across from the West side of Cooper Square, as well
   as various others in the area.

---
PRESENTATION OUTLINE
Topic: Computer/Network Security: Anatomy of a Hack
Related Topics/Keywords:
Kali Linux, Windows, Computer Security, Network Security, Next Generation Firewalls, Metasploit, Security Exploits/Reconnaissance/Exfiltration.
Introduction & Description of Talk:
Presentation information is below, but it sounds like the talk will demonstrate using Kali Linux to attack/probe/hack Windows, where Security Exploits/Reconnaissance/Exfiltration will be covered...
Today's Cybersecurity Challenges:
Cyber criminals are better resourced today because the cost of computing power continues to decrease. Plus, they share tools and techniques, and automate attack efforts. As a result, organizations are now getting pummeled by sophisticated new attacks that blend malicious techniques and tactics to compromise an organization's computing environment. Further complicating this issue is the adoption of modern IT initiatives, like cloud computing/SaaS, BYOD/mobility, and SDN that can expand an organization's computing environment and exposure.
The combination of these factors makes cybersecurity a real challenge for many organizations today - one that, if not addressed effectively, can cost millions of dollars in lost revenue and risk customer data and loyalty, intellectual property, and business reputation.
In the face of these challenges, many companies are still relying on decades-old security technology and point products designed to address only one specific challenge. This limits visibility, leaves gaping holes in an organization's security posture, and requires extensive manual intervention. Unfortunately, even the most astute cybersecurity experts facing off against machines and the automated, sophisticated tactics of attackers today have little to no leverage.
Organizations cannot hire their way out of this problem by throwing more people at navigating a legacy architecture or making up for the inherent gaps between the siloed technologies. Instead, organizations should consider a security platform that is designed to operate in today's modern networks, one that natively integrates security capabilities, shares important context, offers complete visibility and automatically reprograms itself to account for new threats, thereby continuously preventing attackers from achieving their ultimate objectives.
Presentation Outline:

Anatomy of a Hack is a presentation that takes you behind the curtain and into the hacker's mindset. We will go over spearphishing, exploitation, reconnaissance, lateral movement and exfiltration of data. We will also demonstrate how Palo Alto Networks' Security Operating Platform can utilize multiple methods of prevention to stop these attacks.
References & Web Resources:

   Unit 42 - Threat Research Blog:
     https://researchcenter.paloaltonetworks.com/unit42/

   Palo Alto Networks Products Page:
     https://www.paloaltonetworks.com/products

   Palo Alto Networks Home Page
     http://www.paloaltonetworks.com


---
SPEAKER BIOGRAPHY
Chris has more than 10 years experience as a network security systems engineer working with multiple technology vendors including Palo Alto Networks, Juniper Networks, Blue Coat, and McAfee among many others. He's passionate about educating people to the perils of the modern network and maximizing the value/effectiveness of security technologies.
---
COMPANY BIOGRAPHY
Palo Alto Networks is the global cybersecurity leader, known for always challenging the security status quo. Our mission is to protect our way of life in the digital age by preventing successful cyberattacks. This has given us the privilege of safely enabling tens of thousands of organizations and their customers. Our pioneering Security Operating Platform safeguards your digital transformation with continuous innovation that combines the latest breakthroughs in security, automation, and analytics. By delivering you a true platform and empowering a growing ecosystem of change-makers like us, we provide you highly effective and innovative cybersecurity across clouds, networks, and mobile devices. Around the world, customers love our security, consistently awarding us the highest loyalty ratings and net promoter scores in the industry.
The Palo Alto Networks(r) Security Operating Platform prevents successful cyberattacks through intelligent automation. Our platform combines network and endpoint security with threat intelligence and accurate analytics to help streamline routine tasks, automate protection and prevent cyber breaches. Tight integrations across the platform and with ecosystem partners deliver consistent security across clouds, networks and mobile devices, natively providing the right capabilities at the right place across all stages of an attack lifecycle. Because our platform was built from the ground up with breach prevention in mind - with important threat information being shared across security functions system-wide - and architected to operate in modern networks with new technology initiatives like cloud and mobility, customers benefit from better security than legacy or point security products provide and realize better total cost of ownership.
For further information please visit: http://www.paloaltonetworks.com
---
GIVEAWAYS

Addison-Wesley Professional/Prentice Hall PTR/Pearson, and O'Reilly have been kind enough to provide us with review copies of some of their books, which we will continue to raffle off as giveaways at our meetings. The publishers always ask that the persons receiving the books provide a review and/or feedback about their books.
Unigroup would like to thank both publishing companies for the support provided by their User Group programs.
As always, all of the books will be available for review at the start of the meeting.
Note: Our book supply is currently running low, and we need to restock.
---
FEE SCHEDULE
Unigroup is a Professional Technical Organization and User Group, and its members pay a yearly membership fee. For Unigroup members, there is usually no additional charges (ie. no meeting fees) during their membership year. Non-members who wish to attend Unigroup meetings are usually required to pay a "Single Meeting Fee".

         Yearly Membership (includes all meetings):      $ 50.00
         Student Yearly Membership (with current! ID):   $ 25.00
         Non-Member Single Meeting:                      $ 20.00
         Non-Member Student Single Meeting (with! ID):   $  5.00

       * Payment Methods: Cash, Check, American Express.
                          MasterCard, VISA, Discover (since 2013).

       ! Students: We are looking for proof that you are
         currently enrolled in classes (rather than working
         full-time), and as such, your Student ID should show
         a CURRENT date.  We have been presented Student IDs
         containing NO dates whatsoever, and in the
         current environment, perpetual/non-expiring access
         to university facilities just does not feel right.
         If your ID contains no date, please bring
         additional proof of current enrollment.  Thanks.


NOTE: Simply receiving Unigroup Email Announcements does NOT indicate membership in Unigroup.
Members: Remember to bring your membership card with you to the meeting, to confirm your yearly renewal date!
---
FOOD AND REFRESHMENTS
Complimentary Food and Refreshments will be served. This includes "wraps" such as turkey, roast beef, chicken, tuna and grilled vegetables as well as assorted salads (potato, tossed, pasta, etc), cookies, brownies, bottled water and assorted beverages.
** However, due to a continuing situation at our caterer, we are planning to have: pizza (cheese+veggy), soda, water, cookies, and brownies at this meeting.
Palo Alto Networks will be sponsoring the food service for this meeting... Thanks Palo Alto Networks!
---
Please join us for this meeting, you won't want to miss it!

Webmaster (unilist@unigroup.org)
Copyright © 2018 Unigroup of New York, Inc., All rights reserved.