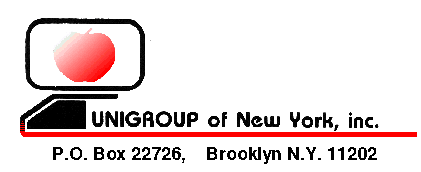 Unigroup's September 2019 Meeting Announcements
---
---
UNIGROUP GENERAL MEETING
Topic:

Open Source Computer Security: Offense and Defense, with Computer Security Industry Trends Update

Speaker:

Chris McGinley - CISSP, CCE, Managing Partner,
Matt Wilson - CISSP, Chief Information Security Advisor,
Matt Barnett - CISSP, GCFA, Managing Consultant,
BTB Security

Date:

Thursday, 19-SEP-2019 (** Regular 3rd Thursday **)


Location:
The Cooper Union
School of Engineering (*** NEW BUILDING ***)
41 Cooper Square (3rd Avenue @ 7th Street, between 6th & 7th Streets)
East Village, Manhattan
New York City, 10003
Meeting Room: 201 (*** New Building, 2nd Floor, CHANGED ***)

** Please RSVP **


Time:

6:15 - 6:30 PM Registration

6:30 - 6:45 PM Ask the Wizard - Questions, Answers and Current Events

6:45 - 7:00 PM Unigroup Business

7:00 - 9:30 PM Main Presentation


Cost:

Please see the Fee Schedule below.
---
MEETING INTRODUCTION
Unigroup's September 2019 meeting will be on Computer Security using Open Source Tools. Our speakers are computer security professionals from BTB Security, who will be covering Open Source Tools useful for building an Arsenal for both Offensive and Defensive security tasks. We also hope to hear their insights regarding current computer security threats, trends and investigations.
---

   SPECIAL INSTRUCTIONS:
   ---------------------

   Most Unigroup meetings are open to the public!

   To REGISTER for this event, please RSVP by using the
       Unigroup Registration Page.

   This will allow us to automate the registration process.
   (Registration will also add you to our mailing list.)
   Please avoid emailed RSVPs.

   Please continue to check the Unigroup web site and THIS page,
   for any last minute updates concerning this meeting.  If you
   registered for this meeting, please check your email for any last
   minute announcements as the meeting approaches.  Also make sure
   any anti-spam white-lists are updated to _ALLOW_ Unigroup traffic!
   If you block Unigroup Emails, your address will be dropped from
   our mailing list.

   Also, if you have an interest in Unigroup, be sure to receive
   Unigroup information DIRECTLY from Unigroup, via direct receipt
   of Emails and by visiting the Unigroup Web Site.  NO OTHER SOURCE
   provides timely, accurate and complete Unigroup information.

   Please RSVP as soon as possible, preferably at least 2-3 days
   prior to the meeting date, so we can plan the food order.
   RSVP deadline is usually the night before the meeting day.

   Note: RSVP is requested for this location to make sure the guard
         will let you into the building.  RSVP also helps us to
         properly plan the meeting (food, drinks, handouts,
         seating, etc.) and speed up your sign-in at the meeting.
         If you forget to RSVP prior to the meeting day, you may
         still be able to show up and attend our meeting, however,
         we cannot guarantee what building security will do if
         you are "not on the list".


---
DIRECTIONS

   Location:
      The Cooper Union  (http://www.cooper.edu)
      School of Engineering  (*** New Building ***)
      41 Cooper Square (3rd Avenue @ 7th Street, between 6th & 7th Streets)
      East Village, Manhattan
      New York City, 10003
      Meeting Room: ** (See Above, Room May Change Month-to-Month)

   Located on the East side of Cooper Square.  Look for the
   new building with the non-traditional appearance.
   Entrance is at the corner of 3rd Avenue and 7th Street.

   Building lobby sign-in is required at the guard's desk.
   Enter the building, check in with the guard at the lobby for
     directions to the Unigroup Meeting Room.

   Nearest mass transit stations are:
     '6'           to Astor Place (stops right at The Cooper Union),
                   then walk 1 block East and 1 block South.
     'R'           to 8th Street, then walk about 2 blocks East
                   then 1 block South.
     '4/5/N/Q'     to Union Square, then walk South and East.
                   or transfer to the downtown '6' to Astor Place.
     'B/D/F/V'     to Broadway-Lafayette, then walk North and East.
                   or transfer to the uptown '6' to Astor Place.

   Free street parking in the area becomes available at 6pm.

   There are parking lots on Broadway, at (or just South of) 8th
   Street, across from the West side of Cooper Square, as well
   as various others in the area.

---
PRESENTATION OUTLINE
Topic: Open Source Computer Security: Offense and Defense
Related Topics/Keywords:
Computer Security, Computer Security Investigations, Computer Security Vulnerabilities, Computer Security Trends, Open Source Security Tools, Nmap, Metasploit, Burp, Hashcat, netcat, ettercap, arpspoof, Fail2Ban, ELK, IPTables, auditd, Beats, Tripwire, nmap, netfilter, MFA, Cryptography, FIM.
Introduction & Description of Talk:
Open Source Security and Tools for Offense and Defense...
Offensive Tool Arsenal: Nmap, Metasploit, Burp, Hashcat, netcat, ettercap, arpspoof, etc.
Defensive Tool Arsenal: Fail2Ban, ELK, IPTables, auditd, Beats, Tripwire, etc.
The Absolute Basics: grep, awk, BASH, Python, Sockets, Regex.
Presentation Outline:

Detailed outline:
Offensive Tools:

Hacking Tools

Metasploit Framework
Burp
Netcat / ncat
ettercap / bettercap

Password Basics

Hashing Review
Intro to using crypto libraries
Writing our own cracker
Using hashcat

Nmap

Basics
Advanced use using scripts
Demo

Privilege escalation

Basic checks
Scripting it

Defense Tools:

Netfilters

What are they
History of userspace tools
Practical IPTABLES example
Bonus feature

Fail2ban

What is this tool?
Why would I use it?
Practical and interesting examples
DEMO

Beats

What are they?
Monitoring process and network activity with Auditbeat
Monitoring host health with Metricbeat

Auditd

What is it and why do I care?
Hold the phone ... we'll combine Beats, Auditd, and FIM in a moment

File Integrity Monitoring (FIM)

What is it?
What is that wire I tripped over?
Practical example using Auditbeat

Multifactor Authentication SSH

Let's just add an additional layer to help the cause

ELK

Not the big deer, but what is it?

Special Teams:

Some of our favorite commands and topics

Overtime:
References & Web Resources:

   To-be-announced.


---
SPEAKER BIOGRAPHY
Chris McGinley - CISSP, CCE, Managing Partner, BTB Security
Over 25 years in/around IT, with 15 focused on information security. Master tinkerer and problem solver that's broken into every system in existence from the 1980s onward, but doesn't get to practice his craft any more. Still actively building, maintaining, and architecting networks, systems, and applications. Huge open source advocate with a penchant for Gentoo Linux and all of its versatility.
Matt Wilson - CISSP, Chief Information Security Advisor, BTB Security
The guy with all of the answers when it comes to information security. Throughout his career Matt has fostered the development of assessment methodologies, toolsets, and techniques for the delivery of security assessments, penetration testing, application assessments, compliance assessments, security awareness trainings, and policy review and development. More recently, Matt has been actively engaged in the continued maturation of BTB's CISO Advisory Practice and RADAR Managed Detection & Response service.
Matt Barnett - CISSP, GCFA, Managing Consultant, BTB Security
Master social engineer and physical security tester - there may not be a building/office/secured space that Matt can't get into. Well rounded, with an extensive background in technical assessments as well as enterprise architecture and design, Matt offers both tactical and strategic insight to customers looking to enhance their information security posture.
---
COMPANY BIOGRAPHY
Extracted from http://www.btbsecurity.com/who-we-are ...
BTB Security provides Information Security, Digital Forensic, Compliance, and Integration services to individuals and organizations across all industries.
Founded in 2006, BTB Security was built with some fundamental goals in mind: To build a customer base and name within the professional services industry by telling the truth and practicing with integrity. To deliver high-quality and high-value projects for every service we offer. To become a trusted advisor with every customer, no matter how big or small. To conduct business in a manner that focuses on ethics, decency, and service. BTB's founding partners have experience delivering, managing, and selling consulting services for Big Four, security specialty, and Value Added Reseller employers. Not only have the BTB partners acted as consultants, they've managed corporate information security groups in public and private organizations.
For further information, visit the BTB Security Web Site: https://www.btbsecurity.com
---
GIVEAWAYS

Addison-Wesley Professional/Prentice Hall PTR/Pearson, and O'Reilly have been kind enough to provide us with review copies of some of their books, which we will continue to raffle off as giveaways at our meetings. The publishers always ask that the persons receiving the books provide a review and/or feedback about their books.
Unigroup would like to thank both publishing companies for the support provided by their User Group programs.
As always, all of the books will be available for review at the start of the meeting.
Note: Our book supply is currently running low, and we need to restock.
---
FEE SCHEDULE
Unigroup is a Professional Technical Organization and User Group, and its members pay a yearly membership fee. For Unigroup members, there is usually no additional charges (ie. no meeting fees) during their membership year. Non-members who wish to attend Unigroup meetings are usually required to pay a "Single Meeting Fee".

         Yearly Membership (includes all meetings):      $ 50.00
         Student Yearly Membership (with current! ID):   $ 25.00
         Non-Member Single Meeting:                      $ 20.00
         Non-Member Student Single Meeting (with! ID):   $  5.00

       * Payment Methods: Cash, Check, American Express.
                          MasterCard, VISA, Discover (since 2013).

       ! Students: We are looking for proof that you are
         currently enrolled in classes (rather than working
         full-time), and as such, your Student ID should show
         a CURRENT date.  We have been presented Student IDs
         containing NO dates whatsoever, and in the
         current environment, perpetual/non-expiring access
         to university facilities just does not feel right.
         If your ID contains no date, please bring
         additional proof of current enrollment.  Thanks.


NOTE: Simply receiving Unigroup Email Announcements does NOT indicate membership in Unigroup.
Members: Remember to bring your membership card with you to the meeting, to confirm your yearly renewal date!
---
FOOD AND REFRESHMENTS
Complimentary Food and Refreshments will be served. This includes "wraps" such as turkey, roast beef, chicken, tuna and grilled vegetables as well as assorted salads (potato, tossed, pasta, etc), cookies, brownies, bottled water and assorted beverages.
** However, due to a continuing situation at our caterer, we are planning to have: pizza (cheese+veggy), soda, water, cookies, and brownies at this meeting.
BTB Security will be sponsoring the food service for this meeting. Thanks BTB Security!
---
Please join us for this meeting, you won't want to miss it!

Webmaster (unilist@unigroup.org)
Copyright © 2019 Unigroup of New York, Inc., All rights reserved.