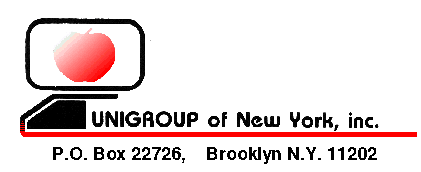 Unigroup's November 2019 Meeting Announcements
---
---
UNIGROUP GENERAL MEETING
Topic:

Linux Kernel AFS (Distributed Filesystem) on Fedora 31

Speaker:

Jeffrey E. Altman, Founder and CEO,
AuriStor

Date:

Thursday, 21-NOV-2019 (** Regular 3rd Thursday **)


Location:
The Cooper Union
School of Engineering (*** NEW BUILDING ***)
41 Cooper Square (3rd Avenue @ 7th Street, between 6th & 7th Streets)
East Village, Manhattan
New York City, 10003
Meeting Room: LL210 (*** New Building, Sub-basement Lower Level ***)

** Please RSVP **


Time:

6:15 - 6:30 PM Registration

6:30 - 6:45 PM Ask the Wizard - Questions, Answers and Current Events

6:45 - 7:00 PM Unigroup Business

7:00 - 9:30 PM Main Presentation


Cost:

Please see the Fee Schedule below.
---
MEETING INTRODUCTION
Unigroup's November 2019 meeting will discuss AFS - The Andrew File System, a distributed filesystem which now has some built-in out-of-the-box support in Fedora 31. AFS was developed back in the 1980s, and the open source OpenAFS project was formed back in year 2000. AFS has been available for a broad range of heterogeneous systems including: UNIX, Linux, MacOS X, and Microsoft Windows.
Our speaker, Jeff Altman, had last presented AFS-related topics to Unigroup back in 2011 (and 2005 before that), and his other Unigroup talks included: MIT Kerberos 5 (2004) and Security Protocols and Technologies (2001).
---

   SPECIAL INSTRUCTIONS:
   ---------------------

   Most Unigroup meetings are open to the public!

   To REGISTER for this event, please RSVP by using the
       Unigroup Registration Page.

   This will allow us to automate the registration process.
   (Registration will also add you to our mailing list.)
   Please avoid emailed RSVPs.

   Please continue to check the Unigroup web site and THIS page,
   for any last minute updates concerning this meeting.  If you
   registered for this meeting, please check your email for any last
   minute announcements as the meeting approaches.  Also make sure
   any anti-spam white-lists are updated to _ALLOW_ Unigroup traffic!
   If you block Unigroup Emails, your address will be dropped from
   our mailing list.

   Also, if you have an interest in Unigroup, be sure to receive
   Unigroup information DIRECTLY from Unigroup, via direct receipt
   of Emails and by visiting the Unigroup Web Site.  NO OTHER SOURCE
   provides timely, accurate and complete Unigroup information.

   Please RSVP as soon as possible, preferably at least 2-3 days
   prior to the meeting date, so we can plan the food order.
   RSVP deadline is usually the night before the meeting day.

   Note: RSVP is requested for this location to make sure the guard
         will let you into the building.  RSVP also helps us to
         properly plan the meeting (food, drinks, handouts,
         seating, etc.) and speed up your sign-in at the meeting.
         If you forget to RSVP prior to the meeting day, you may
         still be able to show up and attend our meeting, however,
         we cannot guarantee what building security will do if
         you are "not on the list".


---
DIRECTIONS

   Location:
      The Cooper Union  (http://www.cooper.edu)
      School of Engineering  (*** New Building ***)
      41 Cooper Square (3rd Avenue @ 7th Street, between 6th & 7th Streets)
      East Village, Manhattan
      New York City, 10003
      Meeting Room: ** (See Above, Room May Change Month-to-Month)

   Located on the East side of Cooper Square.  Look for the
   new building with the non-traditional appearance.
   Entrance is at the corner of 3rd Avenue and 7th Street.

   Building lobby sign-in is required at the guard's desk.
   Enter the building, check in with the guard at the lobby for
     directions to the Unigroup Meeting Room.

   Nearest mass transit stations are:
     '6'           to Astor Place (stops right at The Cooper Union),
                   then walk 1 block East and 1 block South.
     'R'           to 8th Street, then walk about 2 blocks East
                   then 1 block South.
     '4/5/N/Q'     to Union Square, then walk South and East.
                   or transfer to the downtown '6' to Astor Place.
     'B/D/F/V'     to Broadway-Lafayette, then walk North and East.
                   or transfer to the uptown '6' to Astor Place.

   Free street parking in the area becomes available at 6pm.

   There are parking lots on Broadway, at (or just South of) 8th
   Street, across from the West side of Cooper Square, as well
   as various others in the area.

---
PRESENTATION OUTLINE
Topic: Linux Kernel AFS (Distributed Filesystem) on Fedora 31.
Related Topics/Keywords:
AFS, Andrew File System, AFS3, OpenAFS, AuriStor File System, Global File Namespace, Wide Area Distributed File System, Linux Kernel, AF_RXRPC, kAFS, Fedora Linux, Cloud Era File System, Containers, Linux Namespaces, Federated Authentication, Combined Identity Authentication, Constrained Elevation Multi-factor Authorization, GSS-API, Kerberos, Linux Keyrings.
Introduction & Description of Talk:
This meeting will be exploring some old technologies, some new implementations and the reasons why the ACM's 2016 Software System Award went to the developers of the Andrew File System (AFS). Thirty four years after the /afs file namespace went into production, Fedora 31 became the first Linux distribution to ship a complete Linux kernel AFS client solution. Unlike the monolithic AFS clients that originated with IBM AFS, Linux kafs is a modular Linux specific AFS and AuriStorFS client. Many of the components developed for kafs have become core Linux technologies including Keyrings, FS-Cache, and keyutils. With built-in support for Linux namespaces kafs provides one of the best solutions to address secure persistent storage for Linux Containers and implementation of portable overflow compute models.
Presentation Outline:

Intro of AFS family filesystems - AFS3, DCE DFS and AuriStorFS

The first object store backed filesystems
The first cloud era filesystems
The first federated filesystems
The first global namespace filesystems

Core architectural differences between AuriStorFS / AFS3 and NFS and CIFS?

Object store backed filesystems vs exported local filesystems

OpenAFS and Linux - why is Linux Kernel AFS necessary?

Isn't being open source good enough?

Fedora Core 31 out of the box demo
RX RPC - Secure multi-service remote procedure calls for everyone

RX RPC is not just for AFS3 - anyone can use it
RX connection security - end-to-end wire privacy without man-in-the-middle attacks

AuriStorFS, GSS-API, Kerberos, RX RPC and Linux Keyrings

Shared History
AuriStorFS Security model

Combined identity authentication
Multi-factor constrained elevation authorization
Explicit vs Implicit Access Control

Open Topics
References & Web Resources:

   OpenAFS Foundation and OpenAFS Releases/Downloads:
     https://www.openafs.org

   kAFS Project and AF_RXRPC (Linux Kernel Filesystem to access AFS Servers):
     https://www.infradead.org/~dhowells/kafs/

   Building Fedora kafs kernels and kafs-related tools:
     https://copr.fedorainfracloud.org/coprs/jsbillings/kafs/

   KAFS client Packaging and Linux /afs:
     https://pagure.io/packaging-committee/issue/888

   NetworkWorld on AFS:
     https://www.networkworld.com/article/3195838/you-really-should-know-what-the-andrew-file-system-is.html

   Fedora Linux Project:
     https://www.getfedora.org

   ACM Technical Award for AFS:
     http://awards.acm.org/about/2016-technical-awards

   AuriStor Filesystem Comparison (AuriStor, Lustre, NFSv4, OpenAFS):
     https://www.auristor.com/filesystem/auristor-comparison

   AuriStor Commercial Filesystem:
     https://www.auristor.com/openafs/migrate-to-auristor/

   AuriStor Filesystem Tech-Specs:
     https://www.auristor.com/filesystem/tech-specs

   AuriStor Home Page:
     https://www.auristor.com

   Unigroup Talks by Jeff Altman:

     Unigroup 2001-01: Security Protocols and Technologies:
        http://www.unigroup.org/unigroup-200101.html

     Unigroup 2004-05: MIT Kerberos 5:
        http://www.unigroup.org/unigroup-200405.html

     Unigroup 2005-04: The OpenAFS Distributed Filesystem:
        http://www.unigroup.org/unigroup-200504.html

     Unigroup 201111: OpenAFS & The Andrew File System Distributed Storage Model:
        http://www.unigroup.org/unigroup-201111.html


---
SPEAKER BIOGRAPHY
Jeffrey Eric Altman, Founder and CEO, AuriStor
Jeffrey has developed data communications, distributed file system and network security solutions for more than thirty years. His experience with secure data communications extends from two-pair circuits to interplanetary transmissions.
Jeffrey founded AuriStor, Inc. in 2007 to extend the AFS concepts of WAN file system namespaces, security first network protocols, and access control to all 21st centry applications and end users. Today, AuriStor is setting a new standard for secure high performance globally accessible general purpose file systems.
---
COMPANY BIOGRAPHY
AuriStor, Inc. produces secure, scalable cloud storage solutions that reduce the cost of managing the ever increasing unstructured storage needs of global enterprises, small & midsize businesses and eventually, individuals. AuriStor envisions a world in which all users experience the benefits of a universal globally accessible file namespace that provides all of the capabilities and performance of local disk file systems. In this world, operating systems, applications, and user data are executed locally for performance but are logically managed in the network simplifying hardware replacement, reducing risk of data-loss, improving accessibility, providing new opportunities for collaboration, application development and business models.
The AuriStor principals have worked together for over twenty years on Internet-based network file system and security technologies. These collaborations have led to the delivery of successful storage and security solutions to multiple industries, including finance, high performance computing, government research, and computer industry leaders including Apple and Microsoft.
The U.S. Department of Energy awarded Small Business Innovation Research grants in 2008 and 2009 to develop the AuriStor File System. Revenues are generated from software licensing and support contracts in multiple markets such as research organizations, academia and high finance.
AuriStor team members utilize our technology to successful collaborate from multiple locations. Headquartered in New York City, AuriStor team members reside in New York City, Cambridge MA, Edinburgh Scotland UK and Nova Scotia Canada.
For further information, visit the AuriStor Web Site: http://www.auristor.com
---
GIVEAWAYS

Addison-Wesley Professional/Prentice Hall PTR/Pearson, and O'Reilly have been kind enough to provide us with review copies of some of their books, which we will continue to raffle off as giveaways at our meetings. The publishers always ask that the persons receiving the books provide a review and/or feedback about their books.
Unigroup would like to thank both publishing companies for the support provided by their User Group programs.
As always, all of the books will be available for review at the start of the meeting.
Note: Our book supply is currently running low, and we need to restock.
---
FEE SCHEDULE
Unigroup is a Professional Technical Organization and User Group, and its members pay a yearly membership fee. For Unigroup members, there is usually no additional charges (ie. no meeting fees) during their membership year. Non-members who wish to attend Unigroup meetings are usually required to pay a "Single Meeting Fee".

         Yearly Membership (includes all meetings):      $ 50.00
         Student Yearly Membership (with current! ID):   $ 25.00
         Non-Member Single Meeting:                      $ 20.00
         Non-Member Student Single Meeting (with! ID):   $  5.00

       * Payment Methods: Cash, Check, American Express.
                          MasterCard, VISA, Discover (since 2013).

       ! Students: We are looking for proof that you are
         currently enrolled in classes (rather than working
         full-time), and as such, your Student ID should show
         a CURRENT date.  We have been presented Student IDs
         containing NO dates whatsoever, and in the
         current environment, perpetual/non-expiring access
         to university facilities just does not feel right.
         If your ID contains no date, please bring
         additional proof of current enrollment.  Thanks.


NOTE: Simply receiving Unigroup Email Announcements does NOT indicate membership in Unigroup.
Members: Remember to bring your membership card with you to the meeting, to confirm your yearly renewal date!
---
FOOD AND REFRESHMENTS
Complimentary Food and Refreshments will be served. This includes "wraps" such as turkey, roast beef, chicken, tuna and grilled vegetables as well as assorted salads (potato, tossed, pasta, etc), cookies, brownies, bottled water and assorted beverages.
** However, due to a continuing situation at our caterer, we are planning to have: pizza (cheese+veggy), soda, water, cookies, and brownies at this meeting.
---
Please join us for this meeting, you won't want to miss it!

Webmaster (unilist@unigroup.org)
Copyright © 2019 Unigroup of New York, Inc., All rights reserved.