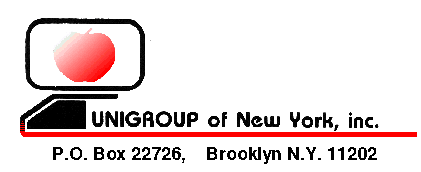 Unigroup's June 2020 Meeting Announcements
---
---
UNIGROUP GENERAL MEETING
Topic:

IBM AIX Operating System and POWER CPU Update

Speaker:

Carl Burnett, Distinguished Engineer, IBM Power Systems,
IBM

Date:

Thursday, 18-JUN-2020 (** Regular 3rd Thursday **)


Location:
ONLINE (via Cisco WebEx)

** RSVP Required **


Time:

6:30 - 6:45 PM Registration and Connect to ONLINE WebEx

6:45 - 7:00 PM Unigroup Welcome

7:00 - 8:30 PM Main Presentation (shortened)


Cost:

Please see the Fee Schedule below.
---
MEETING INTRODUCTION
Unigroup's June 2020 meeting will be an update on IBM's AIX UNIX Operating System and a brief update on IBM Power Computer Systems and CPUs. Given the COVID-19 emergency, this will be Unigroup's first-in-40-years 100% ONLINE meeting, and is expected to be a shortened meeting vs what Unigroup normally presents. Our thanks go to IBM for helping us set up this ONLINE meeting. Note: This ONLINE meeting will be open to the public, and at no charge, but RSVPs with working EMails are mandatory, since we will have to send out WebEx connection information.
---

   SPECIAL INSTRUCTIONS:
   ---------------------

   Most Unigroup meetings are open to the public!

   To REGISTER for this event, please RSVP by using the
       Unigroup Registration Page.

   This will allow us to automate the registration process.
   (Registration will also add you to our mailing list.)
   Please avoid emailed RSVPs.

   Please continue to check the Unigroup web site and THIS page,
   for any last minute updates concerning this meeting.  If you
   registered for this meeting, please check your email for any last
   minute announcements as the meeting approaches.  Also make sure
   any anti-spam white-lists are updated to _ALLOW_ Unigroup traffic!
   If you block Unigroup Emails, your address will be dropped from
   our mailing list.

   Also, if you have an interest in Unigroup, be sure to receive
   Unigroup information DIRECTLY from Unigroup, via direct receipt
   of Emails and by visiting the Unigroup Web Site.  NO OTHER SOURCE
   provides timely, accurate and complete Unigroup information.

   Please RSVP as soon as possible, to help us plan the meeting.
   RSVP deadline is usually the night before the meeting day
   (for in-person meetings).

   Note: RSVP with a working Email Address (do spellcheck it carefully)
         will be REQUIRED to receive connection information for
         the ONLINE session.


---
DIRECTIONS

   Location:
      ONLINE - Instructions will be Emailed to attendees who RSVP.


---
PRESENTATION OUTLINE
Topic: IBM AIX Operating System and POWER CPU Update
Related Topics/Keywords:
IBM AIX Unix Operating System, IBM Power Systems, Power CPU Architecture.
Introduction & Description of Talk:
IBM will be briefing us on the latest news regarding the IBM AIX Unix Operating System.
Presentation Outline:

Our AIX and Power Systems update will review the following topics:
AIX General Strategy
AIX Current Releases
AIX Recent Updates
AIX General Roadmap Directions
References & Web Resources:

   Wikipedia on IBM AIX:
     https://en.wikipedia.org/wiki/IBM_AIX

   IBM AIX Unix Operating System
     https://www.ibm.com/it-infrastructure/power/os/aix

   IBM Power Systems
     https://www.ibm.com/it-infrastructure/power

   IBM
     http://www.ibm.com


---
SPEAKER BIOGRAPHY
Carl Burnett, Distinguished Engineer, IBM Power Systems.
Carl is a Distinguished Engineer within Power Systems software development. In over 30 years with IBM, he has worked on multiple systems software projects, including AIX kernel features, distributed computing frameworks, operating system security, and scalable distributed filesystems. His current responsibilities include collaborating closely with Clients, Power Offering Management, and senior technical leaders to define technical strategy and roadmap objectives for Enterprise Power Systems Software products. Current areas of major focus include hybrid-cloud, enhanced Power virtualization for flexible infrastructure integration, and automation.
---
COMPANY BIOGRAPHY
IBM Power Systems:
IBM Power Systems is the future forward infrastructure needed to transform your business, whether you are running your most sensitive, mission critical workloads, or the next generation of AI workloads.
Power Systems delivers capabilities to deploy the most data intensive workloads in a hybrid cloud. It has security built in at all layers, from processor to the OS, and is designed to deliver end-to-end security. It also provides enterprise class cloud environment in both private and public clouds, giving flexibility and choice for growing businesses.
Power Systems is used by some of the largest companies. The world's top supercomputers run on Power Systems; 80% of fortune 100 have Power Systems, including top 10 banks, 9 of top 10 insurance providers, 8 of top 10 healthcare companies and 8 of top 10 retailers.
For further information, visit the IBM Web Site: http://www.ibm.com
---
GIVEAWAYS

Sorry, not for ONLINE meetings.
---
FEE SCHEDULE
Unigroup is a Professional Technical Organization and User Group, and its members pay a yearly membership fee. For Unigroup members, there is usually no additional charges (ie. no meeting fees) during their membership year. Non-members who wish to attend Unigroup meetings are usually required to pay a "Single Meeting Fee".

         Yearly Membership (includes all meetings):      $ 50.00
         Student Yearly Membership (with current! ID):   $ 25.00
         Non-Member Single Meeting:                      $ 20.00
         Non-Member Student Single Meeting (with! ID):   $  5.00

       * Payment Methods: Cash, Check, American Express.
                          MasterCard, VISA, Discover (since 2013).

       ! Students: We are looking for proof that you are
         currently enrolled in classes (rather than working
         full-time), and as such, your Student ID should show
         a CURRENT date.  We have been presented Student IDs
         containing NO dates whatsoever, and in the
         current environment, perpetual/non-expiring access
         to university facilities just does not feel right.
         If your ID contains no date, please bring
         additional proof of current enrollment.  Thanks.


NOTE: Simply receiving Unigroup Email Announcements does NOT indicate membership in Unigroup.
Members: Remember to bring your membership card with you to the meeting, to confirm your yearly renewal date, for in-person meetings!
---
FOOD AND REFRESHMENTS
Sorry, not for ONLINE meetings.
---
Please join us for this meeting, you won't want to miss it!

Webmaster (unilist@unigroup.org)
Copyright © 2020 Unigroup of New York, Inc., All rights reserved.