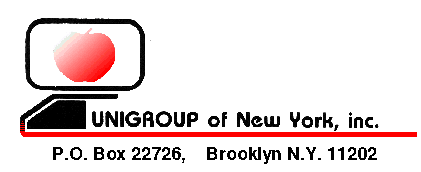 Unigroup's March 2021 Meeting Announcements
---
---
UNIGROUP GENERAL MEETING
Topic:

Oracle Linux for CentOS Users
(Free stuff from Oracle? Really?)

Speaker:

David Gilpin, Principal Product Manager, Oracle Linux & Virtualization,
Oracle

Date:

Thursday, 25-MAR-2021 (** SPECIAL 4th Thursday **)


Location:
ONLINE (via To-Be-Announced)

** RSVP Required **

** RSVP Working Email Required **


Time:

6:30 - 6:45 PM Registration and Connect to ONLINE Meeeting

6:45 - 7:00 PM Unigroup Welcome

7:00 - 8:30 PM Main Presentation (shortened)


Cost:

Please see the Fee Schedule below.
---
MEETING INTRODUCTION
Unigroup's March 2021 meeting will discuss Oracle Linux, given recent current events concerning CentOS Linux.
Oracle has stated: ``Oracle Linux is FREE to download, FREE to update, FREE to distribute. You don't have to log in to any Oracle system to get the ISO or free patches. Oracle Linux is a distribution that is "binary compatible with RHEL."''
This will be Unigroup's fourth-in-40-years 100% ONLINE meeting. Our thanks go to Oracle for helping us set up this ONLINE meeting. This meeting is expected to take place via Zoom, but stay tuned for further information.
Unigroup hopes that everyone has been safe, and will remain safe, during this Covid19 pandemic.
---

   SPECIAL INSTRUCTIONS:
   ---------------------

   Most Unigroup meetings are open to the public!

   To REGISTER for this event, please RSVP by using the
       Unigroup Registration Page.

   This will allow us to automate the registration process.
   (Registration will also add you to our mailing list.)
   Please avoid EMailed RSVPs.

   Please continue to check the Unigroup web site and THIS page,
   for any last minute updates concerning this meeting.  If you
   registered for this meeting, please check your email for any last
   minute announcements as the meeting approaches.  Also make sure
   any anti-spam white-lists are updated to _ALLOW_ Unigroup traffic!
   If you block Unigroup Emails, your address will be dropped from
   our mailing list.

   Also, if you have an interest in Unigroup, be sure to receive
   Unigroup information DIRECTLY from Unigroup, via direct receipt
   of Emails and by visiting the Unigroup Web Site.  NO OTHER SOURCE
   provides timely, accurate and complete Unigroup information.
   (And for invite-only meetings, you'll need to be on Unilist.)

   Please RSVP as soon as possible, to help us plan the meeting.
   RSVP deadline is usually the night before the meeting day
   (for in-person meetings).  For online meetings, please do not wait
   till the last minute, since at that time, we will be busy with the
   meeting itself, and unable to deal with new RSVPs.

   Note: RSVP with a working Email Address (do spellcheck it carefully)
         will be REQUIRED to receive connection information for
         the ONLINE session.  The meeting connection information is to
         be treated as CONFIDENTIAL.


---
DIRECTIONS

   Location:
      ONLINE - Instructions will be Emailed to attendees who RSVP,
               as the meeting approaches.


---
PRESENTATION OUTLINE
Topic: Oracle Linux for CentOS Users
Related Topics/Keywords:
Oracle Linux, Unbreakable Linux, CentOS Linux, Linux Roadmap.
Introduction & Description of Talk:
This talk will be a discussion on Oracle Linux and its similarities to CentOS Linux.
A lot has happened recently with regard to "enterprise Linux" distributions. CentOS Linux 8 (as we know it) is going away later this calendar year. Oracle Linux is another RHEL and CentOS-compatible distribution that has been around for a long time. Oracle Linux is free to download, free to use, free to patch, and free to distribute!
Presentation Outline:

This Tech Talk will discuss Oracle Linux as a viable alternative to CentOS and RHEL. As the classic rock song states "it's been such a long time" since Unigroup has heard about Oracle Linux, so I will cover the wide-ranging features of the Oracle Linux distribution/environment. It's become so much more than "just a RHEL clone"...
CentOS Changes
Feedback from Tech media
What make a Linux distro?
Oracle's contribution to Open Source
Oracle Linux history and nomenclature
Kernels (you have a choice!)
Features (it's all in there)
Oracle Linux for Developers
Oracle Linux Cloud Native Environment
Oracle Linux Manager, based on Spacewalk
Oracle Linux KVM and Oracle Linux Virtualization Manager (based on oVirt)
Oracle VM VirtualBox (not Oracle Linux per se but extremely popular and is used by many Linux fans)
Oracle Linux in Oracle Cloud, including Oracle OCI Always Free instances
Oracle Linux Roadmap
How to download Oracle Linux? Documentation? Tutorials?
Technical questions are welcomed. Oracle Linux has expanded to include a LOT of features and code, and Oracle itself has a LOT of products and applications. It's impossible for one human being to know everything, so I promise to accept questions - answer what I can - and follow-up with answers later for those I cannot.
References & Web Resources:

   Download Oracle Linux ISOs, no login required
     http://yum.oracle.com/oracle-linux-isos.html

   Oracle Linux Documentation
     https://docs.oracle.com/en/operating-systems/oracle-linux/

   Oracle Linux 8 Training videos
     https://apexapps.oracle.com/pls/apex/f?p=44785:141:116253205047582::::P141_PAGE_ID,P141_SECTION_ID:557,3806

   Oracle Linux Blog
     https://blogs.oracle.com/linux/

   Oracle Open Source Software
     https://oss.oracle.com

   Oracle Labs
     https://labs.oracle.com

   Wikipedia on Oracle Linux:
     http://en.wikipedia.org/wiki/Oracle_Linux

   Wikipedia on Oracle Corporation:
     http://en.wikipedia.org/wiki/Oracle_Corporation

   Oracle Blog Article on Switching Linux:
     http://blogs.oracle.com/linux/reasons-for-switching-centos-to-oracle-linux

   Oracle Linux Site on Switching Linux:
     http://linux.oracle.com/switch/centos

   Oracle Linux Site:
     http://linux.oracle.com

   Oracle Web Site:
     http://www.oracle.com


---
SPEAKER BIOGRAPHY
David Gilpin, Principal Product Manager, Oracle Linux & Virtualization, Oracle.
David Gilpin is a Principal Product Manager (Oracle Linux Ambassador). He has been with Oracle for nearly 12 years. David has spent decades in IT as a Solution Architect involving the following technologies: Linux/UNIX, server hardware (Oracle, Sun, HP, Digital Equipment, IBM, Dell and others), storage (Sun, EMC, HDS, NetApp and others), Thin Clients & Network Computing (including Citrix), network printing (Xerox, Tektronix) and more. He has spoken at events such as Texas Linux Fest, Ohio Linux Fest, Dallas Oracle Users Group, USENIX, and Red Hat Summit. David has a BS in Computer Science from Sam Houston State University (go Bearkats!) in Huntsville TX. Hobbies include amateur radio (callsign K5GIL, Amateur Extra Class), computing, electronics and meteorology (Skywarn certified storm spotter.)
---
COMPANY BIOGRAPHY
Oracle provides products and services for IT environments worldwide. Historically known for it's database, Oracle has aggressively expanded into ERP, data management, business analytics and application specialties across a wide range of vertical market segments including healthcare, retail, communications, construction and hospitality. More recently Oracle has rapidly expanded our Cloud offerings including the innovative Autonomous Database and Autonomous Linux. Oracle was founded in 1977; has about 135,000 employees worldwide and is based in Austin, TX.
For further information please visit the Oracle Web Site: http://www.oracle.com
---
GIVEAWAYS

Sorry, not for ONLINE meetings.
---
FEE SCHEDULE
Unigroup is a Professional Technical Organization and User Group, and its members pay a yearly membership fee. For Unigroup members, there is usually no additional charges (ie. no meeting fees) during their membership year. Non-members who wish to attend Unigroup meetings are usually required to pay a "Single Meeting Fee".

         Yearly Membership (includes all meetings):      $ 50.00
         Student Yearly Membership (with current! ID):   $ 25.00
         Non-Member Single Meeting:                      $ 20.00
         Non-Member Student Single Meeting (with! ID):   $  5.00

       * Payment Methods: Cash, Check, American Express.
                          MasterCard, VISA, Discover (since 2013).

       ! Students: We are looking for proof that you are
         currently enrolled in classes (rather than working
         full-time), and as such, your Student ID should show
         a CURRENT date.  We have been presented Student IDs
         containing NO dates whatsoever, and in the
         current environment, perpetual/non-expiring access
         to university facilities just does not feel right.
         If your ID contains no date, please bring
         additional proof of current enrollment.  Thanks.


NOTE: Simply receiving Unigroup Email Announcements does NOT indicate membership in Unigroup.
Members: Remember to bring your membership card with you to any in-person meeting, to confirm your yearly renewal date.
---
FOOD AND REFRESHMENTS
Sorry, not for ONLINE meetings.
---
Please join us for this meeting, you won't want to miss it!

Webmaster (unilist@unigroup.org)
Copyright © 2021 Unigroup of New York, Inc., All rights reserved.