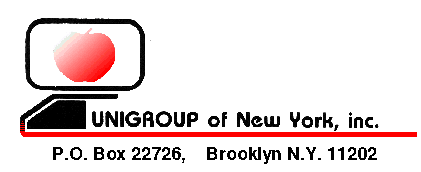 Unigroup Member Benefits
---
Unigroup members may attend all Unigroup general meetings at NO charge.

Students may join Unigroup at a discounted membership rate.

"Networking" with fellow Unix/Linux/BSD Professionals who have a broad background of skills, spanning a variety of industries.

Technical Presentations about Computer Systems, Networks, Technologies and Techniques.

Unigroup Meeting Topics cover ALL varieties of UNIX, BSD, LINUX, and related Operating Systems and technology, covering both Commercial and Freely Available/Open Source Products.

Meeting Topics are focused towards the IT Professional: Computer System Administrators, Software Developers/Computer Programmers, System Architects, Network Administrators, Database Administrators, Web Developers, Computer Security Professionals and End Users.

Discuss Problems and Get Advice from other Unigroup Members and Meeting Attendees.

Review and Discuss Current Events of Importance to the Membership and the Community.

Notification of Local Events and Trade Shows which may be of interest to the Membership.

Meeting and Discussing Technical Issues with Leading Industry Professionals.

Meet Potential Clients, Colleagues, Friends, Employers, Vendors and Service Providers.

Occassional Joint Meetings with the Membership of other NYC Technical User Groups.

Complimentary Exhibit Passes for Trade Shows in the Greater New York City Area.

Complimentary Passes for Conferences in the Greater New York City Area:

Discounts to Conferences and Trade Shows in the Greater New York City Area:

Various handouts, giveaways and door prizes are given out throughout the year. Favorites have been CD/DVD-ROM distributions for various Unix and Unix-like operating systems, USB Thumbdrives, LED flashlights and T-Shirts.

Most meetings offer attendees a raffle/giveaway of Review Copies of Technical Books from Major Publishers.

Review Copies and Discounted Book Purchases from Major Publishers:

NYC Technical User Groups Holiday Party.

Most meetings include COMPLIMENTARY Catered Food and Refreshments.
---
Webmaster (unilist@unigroup.org)
Copyright © 1996-2017 Unigroup of New York, Inc., All rights reserved.